Vintage Strat Set
Three SV ´57 pickups in one set will give you an excellent vintage set.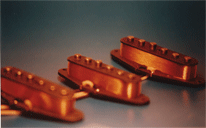 Texas Vintage Set
A matched set of pickups which consists of an SV ´62 in the neck position, an SV ´62 Rw / Rp in the middle position plus an SVL pickup which gives extra strenght in the bridge position without altering the tone in the lower "in - between" position. By using the reversed pickup in the middle position the hum is minimized in the two "in - between" positions.



Telecaster Hot Vintage Set
Two excellent tele pickups in the same set. In the bridge position a TVL ´53 and in the neck position a TVHR Rw / Rp.